Dansko Professional Antique Brown/Blk
The Dansko Professional is the clog that launched a Comfort Revolution. Inside its iconic silhouette is a roomy reinforced toe box, an anatomically contoured PU midsole, an inner frame for stability and support, a padded instep collar, and a protective heel counter that allows the heel to move up and down freely while providing lateral stability. The anti-fatigue rocker bottom assists with forward motion while walking to add hours of comfortable support throughout your day.
Leather and/or fabric uppers
Padded instep collar for comfort when walking
Roomy reinforced toe box for protection with plenty of "wiggle room" for your toes
PU outsole with rocker bottom to propel foot forward and provide shock absorption
Wide heel strike for greater stability
Leather socklining for long-wearing comfort
PU inner frame to reduce torque and provide stability
Protective TPU heel counter allows the heel to move up and down freely while providing lateral stability
Heel height 2"
Care Instructions
Use a damp soapy cloth or sponge to remove surface dirt. Do not saturate the leather.
FIT GUIDE
To confirm the correct size and a proper fit, there should be about a pinky finger width between your heel and the back of the clog.
Your heel should move up and down freely (like an open back clog) when walking. Relax your feet and resist the urge to curl your toes.
In both clogs, stand with equal weight on both feet. The clog's arch should be under your arch and you should not feel the back of the shoe on your heel or your toes touching the front of the clog.
REMEMBER!
Most people have two different sized feet. Be sure to try on both clogs and fit them to the larger foot.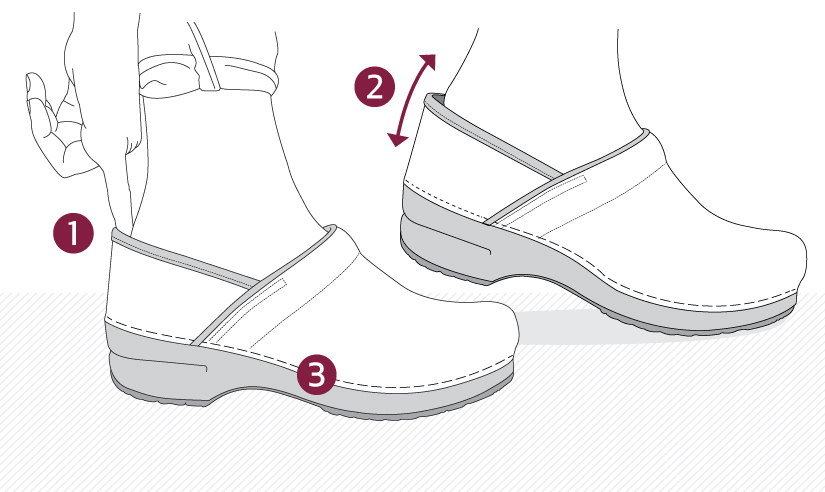 The APMA Seal of Acceptance is awarded to products of exceptional quality that promote good foot health, manufactured with consumer's comfort and safety in mind.